12 Volt Ozone Generators - Product Overview

The Best Ozone Generators to Purify and Deodorize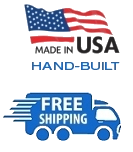 12 volt ozone generators are great tools for mobile use because they can operate anywhere without needing an AC plug-in. However, most 12v ozone machines for sale are low-power units manufactured overseas and sold at prices that reflect the quality and expected lifespan. Buying the best 12v ozone generator can be a challenge if you want a long-lasting 12 volt ozone generator that will do the job. BoiE manufactures unique and versatile 12v ozone machines in the U.S. using only top-quality materials. Our 12 volt ozone generators are never mass-produced or built with inferior materials.

BoiE builds high-power 12v ozone generators using the latest ozone technologies and high-quality, energy-efficient components that conserve battey life and last. BoiE 12 volt ozone generators sterilize water, remove strong odors, and work outdoors for hunters. Our compact 12v ozone generators are the industry's most powerful and durable small-sized units, generating significantly more ozone and lasting much longer than the mass-produced, cheaply-made 12 volt ozone machines found on Amazon or eBay.

Whether it's for home water purification, an ozone closet for sports gear, a musty-smelling room, or a vehicle interior, you'll want to buy a BoiE 12 volt ozone machine to do small jobs quickly and completely. Simply put, we sell serious commercial-grade 12v ozone generators to consumers who want high-performing products directly from an American manufacturer at the best price point. Plus, we stand behind every machine we sell with a money-back guarantee and lifetime customer support. A BoiE 12 volt ozone generator will never become obsolete and with minimal maintenance, can last a lifetime.

Highlights of BoiE Ozone Generators:
Portability: Compact, rugged cases with folding carry handles, designed for transporting and storing. No permanently-attached cords or permanent flanges. Easy to take apart and clean.
Adaptable: Multiple operating positions and duct attachments for vehicles and enclosed spaces.
Simple Operation: Ozone generators ship with a one-touch electronic countdown timer, no programming required.
More cleaning power: Latest-generation, high-frequency electronic transformers producing up to 20 times more ozone than overseas imports.
Quality components: Constructed using ozone-resistant materials and marine-grade wiring to limit corosion. All components are replaceable and user-serviceable with simple tools.
Electrical Safety: Short-proof transformers and overload protection integrated into the wiring.
Warranty: Unlimited 1-year warranty and lifetime customer support.

BoiE 12 Volt Ozone Generators
BoiE AC-powered Ozone Generators
Related Products

What Ozone Generators Do



Ozone machines and hydroxyl generators oxidize the air to remove strong odors from chemicals, mold, smoke and decay. The oxidation breaks down and removes the contamination rather than masking the odor. Environments that are treatable include homes, basements, crawl spaces, hotel rooms, apartments, offices, gyms, sports equipment, fitness centers, locker rooms, vehicles and boats. Our products are essential for flood and fire restoration, mold remediation, crime scene clean up, sanitizing trash dumpster rooms, and to sterilize bacteria, viruses and mold spores at sensitive places including daycare centers, schools and medical centers.

Why Customers Trust BoiE



We have been in business since 1999 and are well-known throughout the indoor air quality (IAQ) industry. We offer environmental training and manufacture the best ozone generators and hydroxyl generators available. We offer a 30-day money-back guarantee, a 1-year unlimited warranty and lifetime customer support. Read our FAQs page for terms, conditions, and lead times.

We take pride in our products and training and are always there to offer help and support. We know how much your business reputation depends on using reliable products with top-notch support if anything goes wrong. We are on the cutting edge of the industry and are always looking for ways to improve our products and offer you more value.

We build the best ozone and hydroxyl generators on the market today. Every unit is assembled in-house and goes through quality control and rigorous testing before we ship. If something goes wrong or wears out, we carry every part and will offer the best solution to get you up and running quickly!