At BoiE - We Know Indoor Air Quality


My Account
Call 800-432-4418

Order/Enroll

SPORTSMAN DC PRO 3500MG/HR 12-Volt Ozone Generator
Powerful Ozone Output: 3,500 mg/hr. 12 Volt DC or AC Adapter
$449


Buy

Click to order
Deodorize Rooms and Vehicles, Dry Wash Clothing, Mask Hunter Scent Outdoors
Shock Treats Up to 350 sq. ft. (indoors), Includes Built-in Timer

Power Matters. We use the latest high-frequency electronic transformers and space-saving electrode design that produces 4x more ozone than older technology, reducing application times by 75 percent!

Description: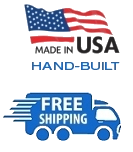 The Sportsman DC Pro 3500 is a sub-compact corona discharge ozone generator that produces 3,500 milligrams of ozone per hour (from ambient air) for shock ozone treatment* indoors or outdoor scent masking. Despite its small footprint, the Sportsman Pro has more power than the average corded ozone generator import.

The Sportsman Pro uses a low-noise fan with dual ball bearings that moves ozone at 58 cubic feet per minute (CFM). It's the perfect ozone generator to carry around, to store in a vehicle or take on a hunting trip and use at times when AC power is not available. The unit can quickly reach disinfection level ozone in smaller spaces such as vehicle interiors, closets and bedrooms, which makes it a great unit to clean up odors at home or on the go.



Ozone is also effective at killing mold spores and disinfecting viruses including the coronavirus (COVID-19). During the SARS virus pandemic in 2003, shock-level ozone had a 99.22% kill rate¹ because pathogens like the coronavirus have no defense against ozone. Use the Sportsman Pro to decontaminate the air and surfaces in smaller spaces.

Scent Masking for Hunting
Like BoiE's popular Sportsman Hunt, the Sportsman Pro creates a human scent-free zone between a ground blind or tree stand and surrounding wildlife. However, the Sportsman Pro can cover a much larger area, generating 3,500 milligrams of ozone per hour, making it dozens of times more powerful that the typical hunting ozone generator sold in stores. The Sportsman Pro's powerful ozone production can create a blind spot for one hunter or for multiple hunters.

Continuous Ozone vs. Scent Elimination
The human scent is very strong and human odor is still being produced even after efforts to mask it. This includes dead skin cells that leave a trail of human odor wherever you walk. The Sportsman Pro provides a continuous ozone flow that changes human odor at the molecular level, rendering human scent unrecognizable to wildlife. When testing scent elimination products, Field and Stream Magazine found that continuous ozone was the only method that confused a police dog trained to locate human odor.

Drywashing Hunting Clothing
The Sportsman Pro can de-scent items placed inside a small enclosure such as duffle bag or garment bag in minutes. Just connect an optional hose attachment (available at check-out) from the ozone machine to the small enclosure to quickly sterilize and deodorize the contents inside. The Sportsman Pro contains a built-in 30-minute countdown timer to set the ozone treatment time.

Ozone Treatments at Home
Uses include removing odors from vehicle interiors or sterilizing and deodorizing rooms. An AC adapter is included so that the Sportsman Pro can be used as a home ozone machine without a battery. You can build or convert any enclosed area into a dedicated ozone closet and connect the Sportsman Pro to it via flexible duct. The unit has enough power to shock treat* an unoccupied 10 ft x 10 ft room in about 20 minutes.

In-the-Field Operation
12-volt power allows the Sportsman Pro to operate in remote areas. The unit is externally powered because no small internal battery can sustain powerful ozone production for very long. Portable ozone generators with small internal batteries always produce much less ozone as a trade-off. Higher-capacity ozone generators like the Sportsman Pro require a significant amount of power.

Battery Power Options
The Sportsman Pro requires 12-volt power which you can connect via the leads (for example, to a vehicle battery), a cigarette lighter socket, or to an optional battery pack that you can purchase. BoiE's optional battery pack is a 6000mAh Li-Ion battery (6 x 3 x 1 inches, 1 lbs) that is good for 4-6 hours run time and recharges with an included AC adapter.

For extended outdoor use, you can use an automotive 12-volt power supply that has a car adapter input. A popular choice is the Clore Automotive Jump-N-Carry for power because it will last a full day on full power, is easy to carry and is thin enough to easily strap to a tree. The Sportsman Pro includes a heavy-duty 18-awg cigarette lighter adapter plug with a 10-ft cord that will plug into the Jump-n-Carry or similar 12V power supply.

How it Works:
The Sportsman Pro is simple to operate, service and repair. The rugged case sits upright and directs ozone horizontally. A quiet but powerful axial fan draws in fresh air on one side and blows ozonated air through a flanged port on the opposite side. Use it to disinfect and remove odors from smaller spaces, or use it to disinfect and deodorize the contents of duffle bags or to mask human odor outdoors.

The rugged poly case can be opened for cleaning with just two snaps and secured with any small lock. Includes an AC adapter and a 12-volt cigarette lighter adapter so that you can use it with AC power or on the go. Compatible with most portable 12-volt power supplies. At just 2.8 pounds and with a compact 8.7" x 7.5" x 3.9" footprint, the BoiE Sportsman Pro is the most powerful compact 12-volt ozone generator in its class. BoiE ozone generators never become obsolete and with minimal maintenance, can last a lifetime. Plus, we stand behind every machine we sell with a money-back guarantee and lifetime customer support.

Bottom Line:
The BoiE Sportsman DC Pro 3500 is a must-have if you need to deodorize spaces, enclosures or continuously mask human odor outdoors while hunting. It blows away competing products for both ozone production and ozone distribution. Corona discharge ozone generation works well under moderate air temperature, produces more ozone than other methods and requires minimal maintenance.

Like all BoiE products, the Sportsman DC Pro 3500MG/HR was designed by professionals for professionals to be a field-ready workhorse that exceeds, outlasts and outperforms the competition.

FREE $299 BONUS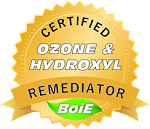 Ozone Remediator Certification (Limited Time Offer)
Your purchase includes BoiE's exclusive 32-hour, comprehensive Ozone and Hydroxyl Remediator certification course. Learn how to properly apply ozone and utilize hydroxyl generation for odor removal, disinfection and restoration applications. Learn the protocols, how to identify and assess the source of odors, corrective measures and preparing treatment reports. Provides a path for starting a new business or expanding your current services. Course includes a helpful Online DVD with demonstration videos. You can enroll and simply use the course material as a reference if you don't need the certification.

Features:


Unbreakable, stackable rugged case


Padlock holes for added security


Folding handle for easier storage


Mossy Oak Graphics® ultra high digital resolution camouflage


Ultra-efficient transformers for maximum output


High/Low ozone output switch


Replaceable, long-life ozone plates


Flange connection for optional hose attachment


Chemically-resistant high impact polystyrene (HIPS) discharge vent


Long-life replaceable ozone plates


304 Stainless Steel fasteners and hinges


Marine-grade tin-plated copper wiring


Waterproof heat shrink electrical crimp connectors


Anti-oxidant compound applied to copper wire connections


Dielectric silicone paste used to protect metal parts from corrosion


Overload-protected, short-proof transformers


BoiE warranty which exceeds the industry standard
Specifications

Type of Use:

Commercial shock treatments with cool/dry conditions

Case Material:

Rugged polymer case with stainless steel hinge pins

Case Type:

Crush-resistant, stackable, lockable, lifetime guarantee

Orientation:

Vertical, stands upright

Color:

Flat Gray, Camouflage

Coverage:

Rapid Shock 450 square ft

Run Time:

17 minutes per 100 square ft, 60 mins max run time

Fan:

58 cubic feet per minute (CFM), 0.15A, Dual Ball Bearing

Hose Attachment:

(Optional flex duct hose available at check out)

Electrical Rating:

12V DC 3.05A

Power Input Plug:

2.1mm X 5.5mm

Overcurrent Protection:

Yes, replaceable 5x20mm fuse

Generation Method:

Corona Discharge

Output:

3,500 mg/hr (ambient air)

Plates:

Ceramic, Moisture-resistant
Working Temperature: 14°F-104°F, 35%-85% Relative Humidity (RH)

Power Switch:

Built-in 30-minute timer with hold position

Size:

8.7" x 7.5" x 3.9"

Weight:

2.8 lbs

Accessories:

12 volt AC Adapter, Car Adapter
*Shock Ozone Treatment
In testing conducted by the EPA's National Risk Management Research Laboratory, an ozone concentration of 5-10 parts per million was needed to kill toxic mold specimens in high and low-humidity environments, respectively.³ Don't be fooled by manufacturers that claim to shock treat large spaces with a small or unspecified amount of ozone. An ozone generator must produce at least 1,000 mg/hr of ozone to shock treat a 100 sq. ft. room with 10 ft. ceilings. Low-power ozone generators will leave an ozone scent but odors will quickly return.

Why Customers Trust BoiE



We have been in business since 1999 and are well-known throughout the indoor air quality (IAQ) industry. We are an EPA-Registered Establishment #99115-SD-1, offer environmental training and manufacture the best ozone generators and hydroxyl generators available. Customers receive a 30-day money-back guarantee, a 1-year unlimited warranty and lifetime customer support.

We take pride in our products and training and are always there to offer help and support. We know how much your business reputation depends on using reliable products with top-notch support if anything goes wrong. We are on the cutting edge of the industry and are always looking for ways to improve our products and offer you more value.

We build the best ozone and hydroxyl generators on the market today. Every unit is assembled in-house and goes through quality control and rigorous testing before we ship. If something goes wrong or wears out, we carry every part and will offer the best solution to get you up and running quickly. We take care of our customers!
© Copyright BOI Environmental Training. All Rights Reserved.