At BoiE - We Know Indoor Air Quality


My Account
Call 800-432-4418

Order/Enroll
HYDRA INDUCT Hydroxyl Generator 2-Optic
$995


Buy

In Stock
Great for Homes and Small Office Buildings
For All Central Air HVAC Systems

Description: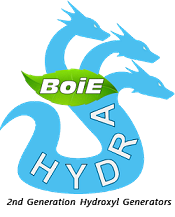 Need to protect your home or business? The BoiE Hydra INDUCT converts any central heat/AC system into a 24-7 hydroxyl generator. With this product installed, any time the fan is in the ON mode, the generated hydroxyls will clean the air throughout the building. Hydroxyl generators effectively treat both the AC coil and the air circulating through the system.

A new study from the University of California San Diego states that, "Evidence suggests that SARS-CoV-2 is silently spreading in aerosols exhaled by highly contagious infected individuals with no symptoms. Owing to their smaller size, aerosols may lead to higher severity of COVID-19 because virus-containing aerosols penetrate more deeply into the lungs."

The Hydra INDUCT uses PhotoCatalytic Oxidation (PCO) technology to attack and kill bacteria and viruses including corona-type viruses but is completely safe to operate continuously. A 2020 study suggests that COVID-19 can circulate in the air for up to three hours.¹ UV light alone will not destroy viruses circulating in the air; HEPA filtration cannot trap something as small as a virus, but PCO technology has been proven to kill viruses on contact.² Note that while no air purification system, can universally prevent coronavirus (including COVID-19) infections, it is critical to take what steps you can and to follow government hygiene guidelines.

How It Works:
Hy

droxyls, which are omnipresent in nature, react in milliseconds and eliminate thousands of contaminants including volatile organic compounds (VOCs). Hydroxyls react quickly enough to remove odors, and break down bacterial spores and pathogens from fast-moving air. Other products require 5-10 seconds of direct exposure to contaminants at close proximity, resulting in little to no effect on contaminants in the air stream.

The BoiE Hydra INDUCT harnesses the power of water through PCO technology to create hydroxyls using only humidity, UV light and a catalyst without producing harmful byproducts. Whenever water vapor is present in the air, it can be converted into the world's safest and most powerful cleaning agent. Biological contaminates are destroyed on contact with the catalyst surface, including the most resistant strains that can survive long periods of exposure to both UV light and household cleaners.

In addition, hydroxyls break down odors trapped in the air from mold, formaldehyde, smoke, sewer gas and many other contaminants until all that remains is carbon dioxide and water.

PCO hydroxyl generation, originally developed by NASA, is ozone-free and safe to use indoors for continuous operation around people, pets and plants. Photocatalytic Oxidation is FDA-approved for use in Class II medical devices. The Hydra INDUCT is designed to operate year-round. The unit has the latest PCO technology including UV-C lamps rated for 9,000-hours, and BoiE's unique 360-Surround permanent nano-anatase TiO2 reactor grid to produce the highest levels of hydroxyls possible without restricting airflow. The unit's germicidal light also sterilizes nearby surfaces such as AC coils.

Some of the health benefits of operating the BoiE Hydra INDUCT hydroxyl generator include:
Fewer illnesses from airborne respiratory viruses (such as any flu virus)
Fewer bacteria ilnesses
Reduction in allergens present in the indoor air
Elimination of mold growth on the air conditioner coil
Reduction of carcinogens in the air from chemical off-gassing
Better night's sleep due to the improved air quality
Layer of protection against Sick Building Syndrome.

Bottom Line:
The BoiE Hydra INDUCT is built from quality, UV-stabilized materials and is easy to service. It is designed to outperform conventional UV in-duct air purifiers. Multiple units can be installed to treat larger systems or to maximize effectiveness.

Like all BoiE products, the Hydra INDUCT was designed by professionals for professionals to exceed, outlast and outperform the competition!
Features:
Quality, UV-stabilized enclosure with shielded view port
All-aluminum support frame for hydroxyl reactor mechanism
Long-life 9,000 hour 253-nm UV-C (germicidal) lamps with low power consumption
360-surround, TiO2 Catalyst Grid allows maximum hydroxyl generation and airflow
Overload-protected transformer
BoiE warranty which exceeds the industry standard
Specifications

Type of Use:

Neutralize airborne contaminants, odor reduction for smoke, mold, pets and VOCs

Case Material:

ABS (stabilized)

Case Type:

Unbreakable box, lifetime guarantee

Color:

Off-white

Compatibility:

All ducted central air systems

Coverage:

2,000 sq ft (80,000 Btu's) per unit

Electrical Rating:

120V~60Hz .33 Amps (36 Watts)

Generation Method:

PhotoCatalytic Oxidation (PCO)

Optics:

253-nm UV-C (germicidal) x2 rated for 9,000-hours

PCO Reactor:

BoiE 2-Optic 360-surround Reactor

Catalyst:

Permanent nano-anatase TiO2 (replaceable)
30%-85%+ Relative Humidity (RH)

Power Connection:

15 ft heavy duty polarized appliance cord

Size:

7.5 x 3.5 x 11.75 inches overall
7.5 x 3.5 x 2.5 inches (outside duct)
5.5 x 2 x 9.25 inches (inside duct)

Weight:

2 lbs

References

Why Customers Trust BoiE



We have been in business since 1999 and are well-known throughout the indoor air quality (IAQ) industry. We are an EPA-Registered Establishment #99115-SD-1, offer environmental training and manufacture the best ozone generators and hydroxyl generators available. Customers receive a 30-day money-back guarantee, a 1-year unlimited warranty and lifetime customer support.

We take pride in our products and training and are always there to offer help and support. We know how much your business reputation depends on using reliable products with top-notch support if anything goes wrong. We are on the cutting edge of the industry and are always looking for ways to improve our products and offer you more value.

We build the best ozone and hydroxyl generators on the market today. Every unit is assembled in-house and goes through quality control and rigorous testing before we ship. If something goes wrong or wears out, we carry every part and will offer the best solution to get you up and running quickly. We take care of our customers!
© Copyright BOI Environmental Training. All Rights Reserved.