Hydroxyl Generators - Product Overview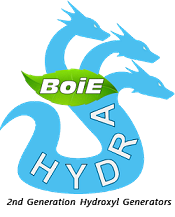 Hydroxyl generators are a popular alternative to ozone generators for mold, water and fire damage restoration projects. A hydroxyl generator is a device that produces reactive oxygen species (ROS) which oxidize contaminants, purifying indoor air. Hydroxyl production occurs naturally outdoors using sunlight but does not travel indoors. The main benefit of a hydroxyl generator is that hydroxyls react with thousands of chemical and microbiological contaminants in the air, but do not harm people, plants, pets or sensitive materials. Contaminants exposed to hydroxyls are broken down into harmless carbon dioxide and water.

The hydroxyl radical (ĽOH) is a powerful oxidizer that can safely neutralize fungal spores, viral cells and bacteria including anthrax, in milliseconds. In fact, U.S. defense agencies have researched and developed tools that use hydroxyl generation to guard against biological and chemical agents. Methods to generate hydroxyls vary, and certain types of hydroxyl generators can run continuously in occupied areas. Unlike ozone, hydroxyls are odorless and require no wait time to reoccupy a treated area.

BoiE hydroxyl generators use Photocatalytic Oxidation Technology (PCO) and Advanced Oxidation Processes (AOP) to produce hydroxyls. PCO technology, originally developed by NASA, is the only hydroxyl generation method that does not produce potentially harmful byproducts. Safe-to-view, UV-A black light or shielded UV-C germicidal light shines on a nano-catalyst where massive numbers of hydroxyls form whenever there is water vapor in the air. Contaminants that come in contact with the light-activated catalyst are instantly oxidized. The UV-C wavelength has the added effect of sterilizing airborne germs, viruses and bacteria that pass close to the light source.

AOP technology, originally developed for water purification, works in tandem with PCO technology, using UV-C light to break down low-concentration hydrogen peroxide vapor (HPV), low-concentration UV ozone or a combination of both, to generate hydroxyls directly into the air. Contaminants are oxidized both in the air stream and on the catalyst surface, which can increase the unit's efficacy, increase the overall coverage area or shorten the cleaning cycle. AOP mode requires an unoccupied area or close monitoring and worker protection to ensure that HPV and/or ozone do not build up to unsafe levels during the treatment cycle before they naturally revert to harmless water and oxygen, respectively.

Highlights of BoiE Hydroxyl Generators:
Portability: Compact, rugged cases with carry handles, designed for transporting and storing. No permanently-attached cords or permanent flanges. Easy to take apart, change filters and clean.
Safe Mode: All units can operate in PCO Mode only, allowing units to be left running continuously in occupied areas without ventilation.
More Cleaning Power: Unique 360-Surround permanent nano-anatase TiO2 reactor grid maximizes the hydroxyl reactive surface area without restricting airflow, and is easy to replace.
Quality Optics: Machines use safe and cool-operating true 368nm anatase titanium dioxide (TiO2)-coated optics or 253-nm UV-C (germicidal) optics depending on application, that are energy-efficient, last thousands of hours and are simple to change.
Hydroxyl Accelerator: BoiE's ultrasonic water vapor optional accessory adds moisture in low humidity conditions to increase hydroxyl reactions and works will all models.
GFCI Protection: Integrated into the wiring through an accessory outlet for electrical safety in wet locations.
Warranty: Unlimited 1-year warranty and lifetime customer support, plus unlimited warranty extensions for an annual maintenance fee.

BoiE Hydroxyl Generators

Why Customers Trust BoiE



We have been in business since 1999 and are well-known throughout the indoor air quality (IAQ) industry. We offer environmental training and manufacture the best ozone generators and hydroxyl generators available. We offer a 30-day money-back guarantee, a 1-year unlimited warranty and lifetime customer support. Read our FAQs page for terms, conditions, and lead times.

We take pride in our products and training and are always there to offer help and support. We know how much your business reputation depends on using reliable products with top-notch support if anything goes wrong. We are on the cutting edge of the industry and are always looking for ways to improve our products and offer you more value.

We build the best ozone and hydroxyl generators on the market today. Every unit is assembled in-house and goes through quality control and rigorous testing before we ship. If something goes wrong or wears out, we carry every part and will offer the best solution to get you up and running quickly!