Great for Mold Remediation and Water/Fire Restoration Companies.
Advanced Oxidation Processes, Treats Up To 5,000 sq ft.
Description: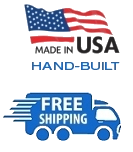 The BoiE Hydra Pro XL is the ultimate, multipurpose hydroxyl generator for challenging restoration projects including mold and sewage remediation, water and fire damage restoration, and dust and odor control. The BoiE Hydra Pro XL will break apart odors from fire and smoke, category 2 & 3 water losses, chemical fumes, fuel oil and VOCs.

Designed for restoration service companies, the Hydra Pro XL combines the benefits of a portable HEPA air scrubber and a versatile hydroxyl generator with four modes of operation, making the Hydra Pro XL a superior product for indoor air purification or mold remediation projects.

The Hydra Pro XL can run in PhotoCatalytic Oxidation (PCO) mode with no risk to occupants or in one of three Advanced Oxidation Process (AOP) modes with monitoring and appropriate PPE when workers are present.* Both types of operation are safe for plants and sensitive materials.

How It Compares:


Service companies have several brands of commercial hydroxyl generators to choose from. The Pro XL removes the same types of contamination as the others, but with several key advantages:
Ozone-producing optics can be turned off
HEPA filtration provides true air cleaning
Vapor injection results in higher efficacy
Lamp replacement is simple and low cost
Easy to transport and roll around buildings
Units can be easily serviced by owners
Companies who have used other brands, have tried out the Pro XL, then have purchased additional units and continue to do so. We service and repair what we sell, so that these units never become obsolete. Comments have been that the Pro XL is easy to use and maintain and does a thorough job. The machine is built inside a heavy-duty, rolling equipment case manufactured in the U.S. that is practically indestructible.

How It Works:
In nature, hydroxyl radicals (highly-reactive hydrogen/oxygen molecules) form when UV light from the sun splits apart water molecules in the air. The resulting hydroxyl radicals and super-oxide ions instantly break down pollutants nearby. Hydroxyls are nature's primary method of cleaning contaminants from the atmosphere using only sunlight and water vapor. Artificially-generated hydroxyls perform the same cleansing function on indoor air and cause no harm to occupants or materials.

The Hydra Pro XL attacks and instantly kills bacteria and viruses including corona-type viruses¹ but is completely safe to operate continuously. Studies show that the virus that causes coronaviruses can circulate in the air for hours.² For coronavirus safety at the jobsite, purchase a Hydra Pro XL hydroxyl generator and run it continuously.

Odors from flooding, mold spores, cigarette smoke, fire damage, sewage spills, off gassing, bacteria, body odor, decomposition and airborne viruses are all safely broken down by a hydroxyl generator until all that remains is carbon dioxide and water.

Since hydroxyls result from water vapor, significant relative humidity in the air is very helpful. The Hydra Pro XL solves low-humidity problems by generating and transferring water vapor to a direct injection manifold inside the machine that distributes vapor over the optics to maximize hydroxyl production.

In addition to safe PCO mode, the Hydra Pro XL's three AOP modes can double or triple hydroxyl production. These options include low concentration Hydrogen Peroxide Vapor (HPV), low concentration UV Ozone (O3/UV) and a combination process.





In PCO mode (Safe Mode), the Hydra Pro XL harnesses the power of water, UV light and a catalyst to safely generate hydroxyls that neutralize odors, break down bacterial spores and pathogens, and leave nothing but fresh, clean air. PCO mode can be used with or without the included water vapor injection system, depending on site conditions. The resulting byproducts are harmless carbon dioxide and water.

PCO hydroxyl generation, originally developed by NASA, is ozone-free and safe to use indoors for continuous operation in unventilated spaces for as long as it takes to remove odors and break down contaminants.

Contaminated air is drawn through an odor-neutralizing pre-filter and a HEPA filter to trap most particulates. Next, the unit employs six germicidal (253-nm UVC) optics in a 2-layer crosshatch pattern along with 3 layers of nano-catalyst to produce hydroxyls that break down volatile organic compounds (VOCs) and other contaminants that pass through the unit's air flow. The machine's high static pressure centrifugal fan runs quietly, making it a good choice for occupied areas such as a client's home.




In AOP Mode 1 (PCO / HPV + UV), hydrogen peroxide is used in the Pro XL's ultrasonic direct injection system instead of pure water. The resulting low-concentration hydrogen peroxide vapor (HPV) vapor breaks down into hydroxyls when exposed to the unit's germicidal UV light without requiring the catalyst. To initiate AOP Mode 1, you simply add a commercially-available hydrogen peroxide solution to the unit's direct injection reservoir and run the Advance in PCO mode. PhotoCatalytic reactions on the catalyst will occur simultaneously. No ozone is generated in Safe Mode, however, HPV levels in the air must be monitored if workers are present. This AOP is the simplest method to generate hydroxyls using UV light. Below is a simplified equation for this AOP where two hydroxyl radicals are created from each hydrogen peroxide molecule:

Hydrogen Peroxide / UV Light:
H2O2 + UV —› 2 •OH




In AOP Mode 2 (PCO / O3 + UV), the Hydra Pro XL activates a seventh optic that generates low concentration ozone. In the presence of water vapor and germicidal UV light, the ozone breaks down into hydrogen peroxide vapor (HPV), then into hydroxyls without requiring the catalyst. PCO mode continues to run simultaneously. The Pro XL's ultrasonic direct injection system can be used to add water vapor if the humidity in the treatment area is too low. Ozone levels in the air must be monitored if workers are present. Below is a simplified equation of this AOP:

UV Light / Ozone:
O3 + H2O + UV —› O2 + H2O2 followed by 2 O3 + H2O2 —› 2 •OH + 3 O2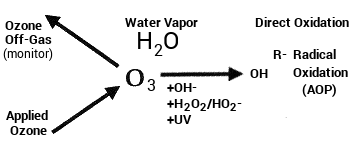 In AOP Mode 3 (PCO / HPV + O3 + UV), the Hydra Pro XL combines hydrogen peroxide vapor (refer to AOP Mode 1) and low concentration ozone (refer to AOP Mode 2). PCO mode continues to run simultaneously. As the ozone and HPV form hydroxyls, the UV light exposure causes more direct and indirect oxidation reactions to occur. The result is a greater conversion of intermediate reactants into hydroxyls (•OH), e.g. more cleaning power. HPV and O3 levels in the air must be monitored if workers are present.

In AOP modes the resulting reactions can double the unit's efficacy, increase the overall coverage area or shorten the cleaning time. Since some ozone and/or hydrogen peroxide vapor off-gassing will occur, AOP modes require an unoccupied area or proper worker protection, especially when there is little ventilation. Ozone and hydrogen peroxide off-gas will each break down naturally into oxygen and oxygen/water, respectively, after a few hours.

All advanced oxidation processes used in the BoiE Advance hydroxyl generator are well-studied and have been used for years in advanced water purification systems and medical sterilization equipment.

Bottom Line:
The standard PCO mode is most beneficial when the machine can be run for longer periods of time, with or without occupants or workers present. The advanced oxidation process modes can increase the coverage area and decrease the cleaning time, provided that the job site is either unoccupied or is monitored for worker safety.* Both modes clean the air without causing damage to plants or sensitive materials. The Hydra Pro XL includes a direct injection version of BoiE's Ultrasonic Hydroxyl Accelerator accessory that turbocharges the airflow with moisture to maximize hydroxyl production in dry conditions.

Like all BoiE products, the Hydra Pro XL was designed by professionals for professionals to exceed, outlast and outperform the competition!
FREE $299 BONUS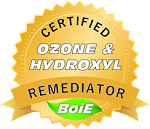 Hydroxyl Remediator Certification (Limited Time Offer)
Your purchase includes BoiE's exclusive 32-hour, comprehensive Ozone and Hydroxyl Remediator certification course. Learn how to utilize hydroxyl generation and properly apply ozone for odor removal, disinfection and restoration applications. Learn the protocols, how to identify and assess the source of odors, corrective measures and preparing treatment reports. Provides a path for starting a new business or expanding your current services. Course includes a helpful Online DVD with demonstration videos. You can enroll and simply use the course material as a reference if you don't need the certification.
Features:
Unbreakable, stackable rugged case
Padlock holes for added security
IPX7/MIL-STD810F and 512.4/IP6X Certifications
Wide track wheels and pull handle
Airline carry-on luggage compliant size
All-aluminum internal support frame for Hydroxyl Reactor
Reflective interior surface to increase hydroxyl production
HEPA Filter with built-In odor neutralizing particle pre-filter
Low-cost, common-sized, generic HEPA filter replacements
Air Scrubber with or without optics activated
Long-life 9,000 hour 253-nm UV-C (germicidal) optics with low power consumption
Lamps arranged in a 2 layer crosshatch for maximum air contact
TiO2 Catalyst Grid surrounding all lamps allows maximum hydroxyl generation and airflow
Quiet UL listed centrifugal blower with overload-protection
Marine-grade straight blade inlet receptacle fits extension cords
GFCI-protected electrical outlet and internal wiring
Marine-grade tin-plated copper wiring
Waterproof heat shrink electrical crimp connectors
Anti-oxidant compound applied to copper wire connections
Overload-protected transformers
BoiE warranty which exceeds the industry standard
Specifications

Type of Use:

Air purification treatments including allergens, smoke, mold and VOCs

Case Material:

Rugged polymer with stainless steel hinge pins

Case Type:

Crush-resistant, stackable, lockable, wheels and pull handle

Case Ratings:

IPX7/MIL-STD810F 512.4/IP6X Certifications

Orientation:

1-position, stand upright

Color:

Blue

Max Coverage:

50,000 cu ft. (e.g. 5,000 sq ft with 10 ft ceilings; 2,500 sq ft with 20' ceilings)

Filtration:

HEPA with built-in pre-filter

Air Scrubber:

Yes

Fan:

365 CFM (max), shaded-pole centrifugal

Electrical Rating:

120V~60Hz 4.3 Amps

Mode 1:

PhotoCatalytic Oxidation (PCO)

Mode 2:

Advanced Oxidation Process (AOP)

Optics:

253-nm UV-C (germicidal) x6
185-nm UV-C (ozone-producing) x1

PCO Reactor:

BoiE 5-Optic 360-surround Reactor

Catalyst:

Permanent nano-anatase TiO2 (replaceable)
30%-85%+ Relative Humidity (RH)

Power Connection:

Straight Blade Inlet Receptacle, Marine-grade

Accessory Outlet:

Yes, GFCI-protected

Power Switch:

Switch 1 (Air Scrubber): ON/OFF
Switch 2 (Hydroxyl Generator): PCO / OFF / AOP

Size:

24 x 16 x 10 inches

Weight:

28 lbs

Accessories:

20 ft. grounded power cord
Ultrasonic Direct Injection H2O/HPV Hydroxyl Accelerator
* The U.S. Occupational Safety and Health Administration (OSHA) Permissible Exposure Limit (PEL), averaged over an eight-hour work shift, for ozone is 0.10 ppm and 1 ppm for HPV. When used in AOP modes in confined spaces, the Hydra Pro XL may exceed PEL and require appropriate personal protective equipment (PPE). Monitoring is required if workers are present.

References
Office Hours 8am - 8pm CST Mon.-Fri. CST, 9am - 6pm Sat. Call 800-432-4418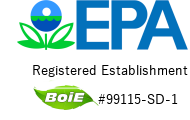 © BOI Environmental (BoiE). All rights reserved.