At BoiE - We Know Indoor Air Quality


My Account
Call 800-432-4418

Order/Enroll



HYDRA PRO V2 Hydroxyl Generator 5-Optic


with Advanced Oxidation Process (AOP) Mode

Great for Professional Mold Remediation and Odor Removal
Hydroxyl Generator with Advanced Oxidation Process, Treats Up To 4,500 sq ft

Description: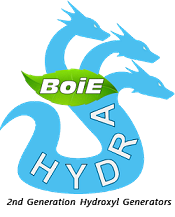 The BoiE HYDRA PRO V2 is a PhotoCatalytic (PCO) hydroxyl generator with an Advanced Oxidation Process (AOP) mode for challenging restoration projects including water and fire damage restoration, mold remediation and odor control. The PRO V2 is a new version of BoiE's HYDRA Professional, a fanless model that used germicidal UVC optics shielded by an air mover purchased separately.

Like its predecessor, the HYDRA PRO V2 can attach to a standard air mover to utilize the air mover's high air changes per hour (ACH) to quickly clean contaminated air. Additionally, the PRO V2 has a built-in 500 CFM fan and a front germicidal UVC shield that allows the PRO V2 to operate as a stand-alone hydroxyl generator in occupied areas. When a separate air mover is added, the PRO V2's fan is switched off and the unit's UVC shield is replaced with an air mover connection flange.

Along with PCO (safe mode), the HYDRA PRO V2 offers an optional AOP mode to accelerate hydroxyl production in the presence of germicidal (UVC) light. The PRO V2 can be operated continuously in PCO mode with occupants present, or in AOP mode with monitoring and appropriate PPE.* Both modes are safe for plants and sensitive materials.

The HYDRA PRO V2 has an IPX7 certified enclosure designed for the harshest environments on the planet and can be opened for service and locked for safety. Includes a straight-blade power inlet that accepts standard extension cords for convenience and a GFCI outlet to daisy-chain units or connect accessories such as BoiE's Ultrasonic Hydroxyl Accelerator accessory.

How It Works:
Hydroxyls are highly-reactive (radical) molecules formed naturally when UV light from the sun splits apart water molecules in the air. The resulting hydroxyl radicals instantly oxidize pollutants nearby. Hydroxyls are nature's primary method of cleaning contaminants from the atmosphere using only sunlight and water vapor. Artificially-generated hydroxyls perform the same cleansing function on indoor air and cause no harm to people, pets, plants or materials.

Odors from flooding, mold spores, cigarette smoke, fire damage, sewage spills, off gassing, body odor and decomposition are all safely broken down by a hydroxyl generator until all that remains is carbon dioxide and water.




In PCO mode (safe mode), the HYDRA PRO V2 harnesses the power of water, UV light and a catalyst to safely generate hydroxyls that neutralize odors, break down bacterial spores and pathogens, and leave nothing but fresh, clean air. PCO mode can be used with BoiE's Ultrasonic Hydroxyl Accelerator to add water vapor if the humidity in the treatment area is too low. The resulting byproducts are harmless carbon dioxide and water.

PCO hydroxyl generation, originally developed by the National Aeronautics and Space Administration (NASA) to purify air onboard a space station, is ozone-free and safe to use indoors for continuous operation in unventilated spaces with workers and other occupants present for as long as it takes to remove odors and break down contaminants.

Contaminated air is drawn through an odor-neutralizing pre-filter to trap large particulates. Next, the unit employs four germicidal (253-nm UVC) optics in a linear pattern surrounded by nano-catalyst to produce hydroxyls that break down volatile organic compounds (VOCs) and other contaminants that pass through the unit's air flow. The design uses space-saving U-shaped optics (ca. 5 linear ft.) to pack the most power possible into a compact unit.

The HYDRA PRO V2 has a powerful 500 CFM (max) axial fan that draws air through its nano-catalyst reactor. The unit has the latest PCO technology including germicidal UVC lamps rated for 9,000-hours. BoiE's unique 360-surround permanent nano-anatase TiO2 reactor grid produces the highest levels of hydroxyls possible without restricting airflow.




In AOP Mode (PCO / O3 + UV), the HYDRA PRO V2 activates a fifth optic that generates low concentration ozone. In the presence of water vapor and germicidal UV light, the ozone breaks down into hydrogen peroxide vapor (HPV), then into hydroxyls without requiring the catalyst. PCO mode continues to run simultaneously. AOP mode can be used with BoiE's Ultrasonic Hydroxyl Accelerator accessory to add water vapor to the unit's air intake if the humidity in the treatment area is too low.

In AOP mode the resulting reactions can double the unit's efficacy, increase the overall coverage area or shorten the cleaning time. Since some ozone off-gassing will exit the machine, AOP mode requires an unoccupied area or proper monitoring of ozone parts per million (PPM), especially when there is little ventilation. Ozone will revert back to normal oxygen in 30-60 minutes depending on site conditions.

The AOP used in the BoiE PRO V2 hydroxyl generator is well-studied and has been used for years in advanced water purification systems and medical sterilization systems. Below is a simplified example of the reactions that produce hydroxyls (•OH) using the HYDRA PRO V2's AOP mode:
UV Light / Ozone:
O3 + H2O + UV —› O2 + H2O2 followed by 2 O3 + H2O2 —› 2 •OH + 3 O2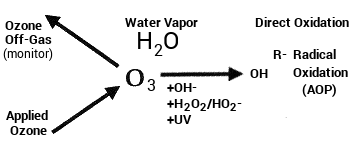 Bottom Line:
PCO mode (safe mode) is most beneficial when the machine can be run for longer periods of time, with or without occupants or workers present. The PRO V2 is great to run during and after a mold remediation project to kill mold spores and to help pass mold clearance testing. The AOP Mode can increase the coverage area and decrease the cleaning time, provided that the job site is either unoccupied or is monitored for safe ozone levels.* Either mode cleans the air without causing damage to plants or sensitive materials.The built-in 500 CFM fan strikes a good balance between air changes per hour (ACH) and fan noise. When attached to an optional air mover, HYDRA PRO V2 has an expanded reach or can clean the air thoroughly during the drying process.

Like all BoiE products, the HYDRA PRO V2 was designed by professionals for professionals to exceed, outlast and outperform the competition!
FREE $299 BONUS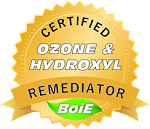 Hydroxyl Remediator Certification (Limited Time Offer)
Your purchase includes BoiE's exclusive 32-hour, comprehensive Ozone and Hydroxyl Remediator certification course. Learn how to utilize hydroxyl generation and properly apply ozone for odor removal, disinfection and restoration applications. Learn the protocols, how to identify and assess the source of odors, corrective measures and preparing treatment reports. Provides a path for starting a new business or expanding your current services. Course includes a helpful Online DVD with demonstration videos. You can enroll and simply use the course material as a reference if you don't need the certification.
Features:
Unbreakable, stackable 2-position rugged case
Padlock holes for added security
Folding handle for easier storage
IPX7/MIL-STD810F and 512.4/IP6X Certifications
All-aluminum internal support frame for Hydroxyl Reactor
Replaceable 2-layer carbon filter
Long-life 9,000 hour 253-nm UV-C (germicidal) optics with low power consumption
360-surround, TiO2 Catalyst Grid allows maximum hydroxyl generation and airflow
Marine-grade straight blade inlet receptacle and accessory outlet
Marine-grade tin-plated copper wiring
GFCI-protected electrical outlet and internal wiring
Waterproof heat shrink electrical crimp connectors
Anti-oxidant compound applied to copper wire connections
Overload-protected transformers
BoiE warranty which exceeds the industry standard
Specifications

Type of Use:

Odor treatments including smoke, mold, pets and VOCs

Case Material:

Rugged polymer with stainless steel hinge pins

Case Type:

Crush-resistant, stackable, lockable, lifetime guarantee

Case Ratings:

IPX7/MIL-STD810F 512.4/IP6X Certifications

Orientation:

1-position, stand upright

Color:

Gunmetal Gray

Coverage:

4,500 sq ft with 10 ft ceilings

Filtration:

2-layer carbon filter

Internal Fan:

500 cubic feet per minute (CFM), Heavy-duty Aluminum, Dual Ball Bearings

External Fan:

Pairs with an optional air mover

Electrical Rating:

120V~60Hz 1.8 Amps

Mode 1:

PhotoCatalytic Oxidation (PCO)

Mode 2:

Advanced Oxidation Process (AOP)

Optics:

253-nm UV-C (germicidal) x4
185-nm UV-C (ozone-producing) x1

PCO Reactor:

BoiE 4-Optic 360-surround Reactor

Catalyst:

Permanent nano-anatase TiO2 (replaceable)

Power Connection:

Straight Blade Inlet Receptacle, Marine-grade

Accessory Outlet:

Yes, GFCI-protected

Power Switch:

Switch 1 (Internal Fan): ON/OFF
Switch 2 (Optic Mode): PCO / OFF / AOP

Size:

15 x 12 x 10 inches

Weight:

13 lbs

Accessories:

20 ft. grounded power cord

* The U.S. Occupational Safety and Health Administration (OSHA) Permissible Exposure Limit (PEL), averaged over an eight-hour work shift, for ozone is 0.10 ppm and 1 ppm for HPV. When used in AOP modes in confined spaces, the HYDRA PRO V2 may exceed PEL and require appropriate personal protective equipment (PPE). Monitoring is required if workers are present.

BoiE Hydroxyl Generators
HYDRA INDUCT
HYDRA FUSION
HYDRA QUAD
HYDRA PRO V2
HYDRA ULTRA
Hydroxyl Accelerator

Why Customers Trust BoiE



We have been in business since 1999 and are well-known throughout the indoor air quality (IAQ) industry. We offer environmental training and manufacture the best ozone generators and hydroxyl generators available. We offer a 30-day money-back guarantee, a 1-year unlimited warranty and lifetime customer support. Read our FAQs page for terms, conditions, and lead times.

We take pride in our products and training and are always there to offer help and support. We know how much your business reputation depends on using reliable products with top-notch support if anything goes wrong. We are on the cutting edge of the industry and are always looking for ways to improve our products and offer you more value.

We build the best ozone and hydroxyl generators on the market today. Every unit is assembled in-house and goes through quality control and rigorous testing before we ship. If something goes wrong or wears out, we carry every part and will offer the best solution to get you up and running quickly!


© Copyright BOI Environmental Training. All Rights Reserved.