Kills Bacteria & Viruses on Surfaces
GRAS-approved for direct food contact
Product Overview:


Sanitize your home, vehicle or business with BoiE's Always Ready Ozone Spray. The BoiE system converts ordinary tap water (sole ingredient) into one of nature's most powerful cleaners. Ozone Spray is safe, non toxic and leaves no residue! Simply fill the bottle with cold water from a sink, plug in the spray bottle to USB power and forget about it. Your free, environmentally-safe disinfectant stronger than bleach will be ready to use whenever you need it!
Aqueous ozone cleaning systems have been around for years but are inconvenient because ozone lasts a limited time and must be recharged before use. BoiE's system solves those problems by maintaining the ozone using low voltage USB power that preserves the ozone cleaning solution at an ideal disinfection level 24/7, so you don't have to wait or wonder if the ozone is ready to use. Extremely efficient operation uses only pennies of electricity per month! See our lab test results.

Use it on Food
The USDA and the FDA have granted aqueous ozone GRAS (Generally Recognized as Safe) approval for direct contact with food products including all meat and poultry products. Restaurant kitchens and home kitchens can take advantage of BoiE's Ozone Spray to add an extra layer of protection and freshness to foods served. Ozone Spray removes pesticides from vegetables, wax from fruit and kills both ecoli and salmonella from meat and seafood. Plus, Ozone Spray removes odors from food and leaves only purified water as a byproduct.

Use it on Surfaces
Ozonated water replaces traditional cleaning solutions for "high-touch" areas. Use on hard, non-porous surfaces including countertops, tables, chairs, floors and frequently touched surfaces such as doors, handles and bathroom fixtures. The Ozone Spray produces a safe for the skin, on-demand sanitizer that is more powerful than bleach and doesn't leave a chemical residue.

Choose a Sprayer

| | |
| --- | --- |
| Misting | Produces a fine, 2-second mist each time the trigger is pressed, no wiping necessary. Designed to disinfect homes, vehicles and smaller areas. Includes control module that plugs into the bottle and USB wall adapter. |
| Commercial | High output, 360-degree, adjustable nozzle. Designed to disinfect large homes and businesses including restaurants and kitchens. Includes control module that plugs into the bottle and USB wall adapter. |
| Powered | Produces a continuous fine spray, 8-hour battery life, 1-touch trigger button. Designed to disinfect homes, bathrooms, showers and large surface areas. Includes control module that plugs into the bottle and USB wall adapter. |

Adding an optional aluminum holder provides a convenient place to store your sprayer bottle while not in use and helps prevent accidental tip overs. The holder is made of a lightweight but strong polished aluminum. Two screws on top secure it to any wall, or it can rest on a flat surface. We designed it especially for restaurants and bars.
What is Ozonated Water?
Often called aqueous ozone or engineered water, ozonated water is a green cleaner made from regular tap water with nothing else added. The oxygen in the water is activated to create a powerful cleaner and proven sanitizer. Ozone has been the number one disinfectant used in the food industry since its approval in 1997.
How It Works
The Always Ready Ozone Spray generates ozone through an electrolytic cell submerged in tap water inside the spray container. Ozone is directly dissolved into the tap water using a small amount of electricity. Within minutes, the water reaches a level of ozonation that will kill viruses and serious parasites such as Giardia and Cryptosporidium.
When infused with water, ozone and other reactive molecules break down contaminants much faster than chemical disinfectants. Organic contaminants dissolve into carbon dioxide and water. The aqueous ozone produces no harmful byproducts or chemical residue that can remain on surfaces.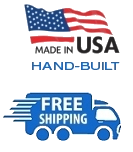 More Reasons to Buy
Boie's Always Ready Ozone Spray uses replaceable, food-safe components. Our Ozone Spray units are USA-manufactured, safe and practical for homes, restaurants and other businesses. Power outage? No problem, just plug the USB cord into a portable power bank or USB car adapter. BoiE offers optional ozone test strips to verify the ozone strength.

Safe for surfaces and food prep

Ozone-resistant components, Easy to clean

Efficient ozone electrolysis cell, no air pumps or moving parts

Kills 99.9% of bacteria and viruses, 3000x faster than bleach

No chemicals to purchase, Greenest of Green Cleaning!

1-year unlimited warranty and lifetime customer support

30-day money-back guarantee
Product Reviews
(Hover to pause)


| | | |
| --- | --- | --- |
| Specifications | | |
| Type of Use: | | Commercial sanitizing |
| Generation Material: | | ABS |
| Color: | | White |
| Generation Method: | | Electrolytic |
| Electrical Rating: | | 5-volts 2.1 A |
| Ozone Output: | | up to 2 mg/L |
| Size: | | 16 to 32 fl. oz. spray bottles |
| Weight: | | 1 lb |
| Accessories: | | USB wall adapter |