$299


Buy

Click to order
16K (16,000 mg/hr) Ozone Upgrade


Fits Junior / Compact / Pro-D / Toolbox / Canon Ozone Generators

Description: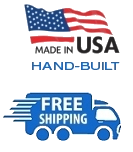 Fits upgradeable SHOCK ozone generators and increases ozone generation capacity by 16k (with one ugrade module) or 64K (with two upgrade modules). The dual, double-sided, corona discharge plates are pre-mounted on the transformer. You attach the module using the included stainless steel screws and nuts through the pre-drilled holes on the generator case, then connect the wires following our easy directions. The upgrade procedure requires simple tools and takes about 30 minutes. Compatible replacement part for all BoiE SHOCK ozone generators.

Features:
Double-sided Ceramic, 304 Stainless Steel Electrodes for longer life
Short-proof, high frequency transformer for maximum output
Stainless steel, perfect fit, mounting hardware included
Quick-change "solder-free" ozone plates, just 4 screws
1-year unlimited warranty and lifetime customer support
30-day money-back guarantee (excludes shipping)

Why Customers Trust BoiE



We have been in business since 1999 and are well-known throughout the indoor air quality (IAQ) industry. We are an EPA-Registered Establishment #99115-SD-1, offer environmental training and manufacture the best ozone generators and hydroxyl generators available. Customers receive a 30-day money-back guarantee, a 1-year unlimited warranty and lifetime customer support.

We take pride in our products and training and are always there to offer help and support. We know how much your business reputation depends on using reliable products with top-notch support if anything goes wrong. We are on the cutting edge of the industry and are always looking for ways to improve our products and offer you more value.

We build the best ozone and hydroxyl generators on the market today. Every unit is assembled in-house and goes through quality control and rigorous testing before we ship. If something goes wrong or wears out, we carry every part and will offer the best solution to get you up and running quickly. We take care of our customers!